GSEB Std 10th Model Paper 2021 Gujarat SSC Sample Papar 2021 Download
How to Write STD 10 Maths paper -PAPER KEY
STD 10 Maths Paper Key :
Click Here
GSEB Std 10th Model Paper 2021, (જીએસઈબી ધોરણ 10 મા મોડેલ પેપર 2021), GSEB SSC Sample Paper 2021, GSEB 10th Std EM, GM Question Paper 2021, GSEB 10th Previous Question Paper 2021, Gujarat Board 10th Question Paper 2021 at www.gseb.org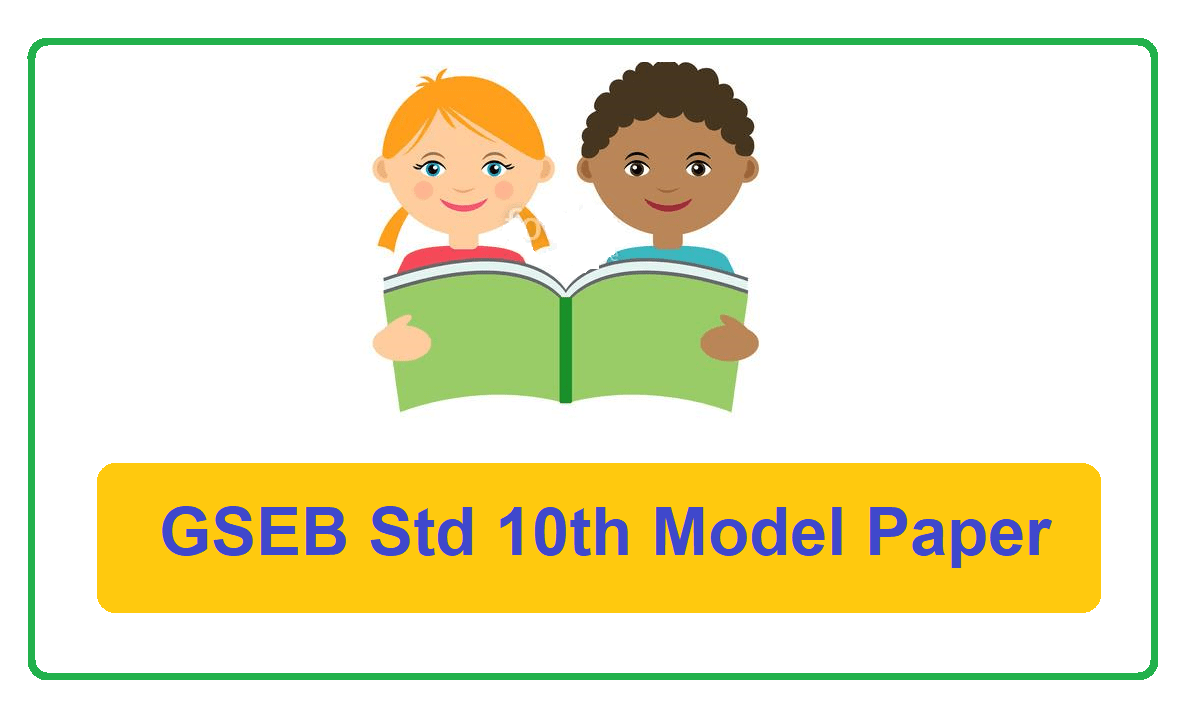 GSEB 10th Model Paper 2021
GSEB Board 10th Previous Paper 2021 can Download Students and Practice and Prepare for the Annual Examination 2021. Easy way is Prepare the entire syllabus and conduct the self Examination Gujarat Board SSC Model Paper 2021, Subject wise Sample Paper are available, so every student can prepare and Practice well on each subject and get the good Grade score.
GSEB 10th Guess Question Paper 2021, from all the Previous papers collect the small answer Solved Questions, Subject wise important Repeated Question from all subjects and Prepare well and secure the Best Grad Score. Here we provided the all subjects Examination Question Papers Download
GSEB SSC Model Question Paper 2021, GSEB std 10 Paper Style 2021, GSEB 10th Gala Paper 2021 English & Gujarati medium download
Gujarat Secondary Board Examination 2021 Students have to plan and Prepare Accordingly. Once they can complete the entire Guessed Model Question Paper 2021, Syllabus then go and exam themselves on old public Examination paper. It could help for the students build the confidence and in case any lag identify on the Model Paper then prepare well on doubt questions.
GSEB 10th All Subjects Model Paper 2021 Download available our Website, this Website will give. 10th Examination 2021 Students you can Download Latest Model Question Paper for Exam 2021 from our websites also. Gujarat 10th Questions Bank, Model Grand Test Paper 2021, links will be useful you download the Model Paper and Question Pattern, Download Previous Paper only help you, after download you have to study sincerely
GSEB Std 10th Model Paper 2021 All Subject Pdf Download, GSEB SSC Important Questions Paper 2021 Pdf Download
1) 01(Guj F.L)Gujarati( 10th Guj MED)
2) 04(English F.L) English( 10th ENG MED)
3) 10Social Science( 10th ENG MED )
4) 10Social Science( 10th Guj MED)
5) 10Social Science( 10th Hindi MED)
6) 11(E)Sc. & Tech NCERT OTHER( 10th)
7) 11(E)Sc. & Tech. NCERT SRT( 10th )
8) 11Sc & Tech( 10th Hindi MED)
9) 11Sc & Tech. ( 10th Guj MED )
10) 11Sc. & Tech( 10th ENG MED)
11) 12(E)Maths NCERT Other( 10th)
12) 12(E)Maths NCESRT SRT( 10th)
13) 12Maths( 10th ENG MED)
14) 12Maths( 10th Guj MED)
15) 12Maths( 10th Hindi MED)
16) 13(Gujarati S.L)Gujarati New Course( 10th ENG MED)
17) 14(Hindi S.L)HINDI( 10th Guj MED)
18) 16(ENGLISH S.L.)ENGLISH( 10th Guj MED)
19) 17SANSKRIT( 10th Guj MED)
20) 4 English F.L-English(10th Eng Med)
21) 01(Guj F.L)Gujrati(10th Guj Med)
22) 10 Social Science(10th Eng Med)
23) 10Social Science(10th Guj Med)
24) 11 Sc. & Tech.(10th Eng Med)
25) 11Sc. & Tech.(10th Guj Med)
26) 12 Maths (10th Eng Med)
27) 12Maths(10th Guj Med)
28) 13(Guj S.L)Gujarati(10th Eng Med)
29) 14(Hindi S.L)Hindi(10th Guj Med)
30) 15(Sindhi-Arebic)(S.L)Sindhi(10th)
31) 15(Sindhi-Devnagri)(S.L)Sindhi(10th)
32) 16(English S.L)English(10th Guj Med)
33) 17 Sanskrit(10th Eng Med)
34) 17Sanskrit(10th Guj Med)
35) 19 Persian(10th Eng Med)
36) 19 Persian(10th Guj Med)
37) 2(Hindi F.L)Hindi(10th Hindi Med)
38) 20 Arabic(10th Guj Med)
39) 20 Arebic(10th Eng Med)
40) 21Urdu(10th Guj Med)
41) 3(Marathi F.L)Marathi(10th)
42) 5(Urdu F.L)Urdu(10th)
43) 6(Sindhi-Arebic)(F.L)Sindhi(10th)
44) 6(Sindhi-Devnagri)(F.L)Sindhi(10th)
45) 7(TAMIL F.L)Tamil(10th)
46) 8(Telugu F.L)Telugu(10th)
47) 9(Oriya F.L)Oriya(10th)
48) 01(Guj F.L)Gujarati New Course( 10th GUJ MED)
49) 02(Hindi F.L)Hindi New Course( 10th Hindi MED)
50) 03(Marathi F.L)Marathi New Course( 10th)
51) 04(English F.L) English New Course( 10th ENG MED)
52) 04(English F.L)(English)NCERT-Others( 10th)
53) 04(English F.L)EnglishNCERT SRT( 10th MAR-2018)
54) 05(Urdu F.L)Urdu New Course( 10th)
55) 06(Sindhi-Arabic)(F.L)Sindhi New Course( 10th)
56) 06(Sindhi-Devnagri)(F.L)Sindhi New Course( 10th)
57) 07(Tamil F.L)TAMIL( 10th)
58) 08(Telugu F.L)Telugu( 10th)
59) 09(Oriya F.L)Oriya ( 10th)
60) 10Social Science New Course( 10th ENG MED)
61) 10Social Science New Course( 10th GUJ MED)
62) 10Social Science New Course( 10th Hindi MED)
63) 11 Sc. & Tech-NCERT SRT( 10th)
64) 11Sc. & Tech( 10th GUJ MED)
65) 11Sc. & Tech( 10th Hindi MED)
66) 11Sc. & TechNCERT-Others( 10th)
67) 11Sc. &Tech( 10th ENG MED)
68) 12 Maths-NCERT-SRT( 10th)
69) 12Maths ( 10th ENG MED)
70) 12Maths NCERT-OTHERS( 10th)
71) 12Maths( 10th GUJ MED)
72) 12Maths( 10th Hindi MED)
73) 13(Gujarati S.L) Gujarati New Course ( 10th ENG MED)
74) 14(Hindi S.L)Hindi New Course( 10th GUJ MED)
75) 15(Sindhi-Arabic)(S.L)Sindhi( 10th)
76) 15-(Sindhi-Devnagri)(S.L)Sindhi( 10th)
77) 16(English S.L)EnglishNew Course( 10th GUJ MED)
78) 17Sanskrit( 10th GUJ MED)
79) દ્રિતિય એકમ કસોટીના પ્રશ્નપત્રો-૨૦૨૦ (ગુજરાતી પ્રથમ ભાષા અને દ્વિતિય ભાષા)
80) દ્રિતિય એકમ કસોટીના પ્રશ્નપત્રો-૨૦૨૦ (વિજ્ઞાન)
81) એકમ કસોટીના પ્રશ્નપત્રો-૨૦૨૦ (સામાજિક વિજ્ઞાન)
82) એકમ કસોટીના પ્રશ્નપત્રો-૨૦૨૦ (ગણિત)
Gujarat SSC Model Paper 2021 All Subject Pdf
1) ધોરણ-૧૦ પ્રશ્નપત્ર પરિરૂપ બાબત.-1
2) ધોરણ૧૦ના પ્રશ્નપત્ર પરિરૂપ બાબત.-2
GSEB Std 10th Model Paper 2021 Blueprint
Computer Theory English Medium Question Paper
Download
Computer Theory from Gujarati Medium Question Paper
Download
English from 'A.G.High School, English Medium Question Paper
Download
Hindi from '
A.G.High School, English Medium Question Paper
Download
Maths from 'A.G.High School, English Medium Question Paper
Download
Drawing from 'A.G.High School, English Medium Question Paper
Download
Physical Education from 'St.Xavier's Loyola Hall, Gujarati Medium Question Paper
Download
PT from 'St.Xavier's Loyola Hall, English Medium Question Paper
Download
Social Science from 'A.G.High School, English Medium Question Paper
Download
Science from 'A.G.High School, English Medium Question Paper
Download
Sanskrit from 'A.G.High School, English Medium Question Paper
Download
GSEB SSC Mathematics Model Paper 2021 All Subject Pdf Download
Mathematics 1 English
Download
Mathematics 2 English
Download
Mathematics Hindi
Download
Mathematics Gujarati
Download
GSEB SSC Science Model Paper 2021 All Subject Pdf Download
Science 1 English
Download
Science 2 English
Download
Science 3 English
Download
Science 4 English
Download
Science 1 Gujarati
Download
Science 2 Gujarati
Download
GSEB SSC English Model Paper 2021 All Subject Pdf Download
English English
Download
English Gujarati
Download
English Hindi
Download
GSEB SSC Social Science Model Paper 2021 All Subject Pdf Download
Social Science 1 English
Download
Social Science 2 English
Download
Social Science 3 English
Download
GSEB SSC Gujarati Model Paper 2021 All Subject Pdf Download
Gujarati English
Download
Gujarati Gujarati
Download
Gujarati Gujarati
Download
GSEB SS
C Model Paper 2021 All Subject Download
Hindi Hindi / English / Gujarati
Download
Sanskrit English / Gujarati
Download
GSEB Std 10th Model Paper 2021 All Subject Pdf Download
English
Gujarati
Hindi
Mathematics
Sanskrit
Science
Social Science
Gujarat Board 10th Theory, Objective, and MCQ Question Paper 1, Paper II All Subject Pdf Download, GSEB 10th Model Paper with Blueprint, Marking Scheme, Exam Pattern, Chapter wise Weightage and blueprint Download
English Language
English Question Paper for English / Gujarati Medium
English Question Paper for English / Gujarati Medium
English Question Paper Hindi Medium
Gujarat Language
Gujarat Language Question Paper (English Medium)
Gujarat Language Question Paper (Gujarati Medium)
Gujarat Language Question Paper (Gujarati Medium)
Hindi Language
Hindi Language Question Paper (Hindi/English/Gujarati Medium)
Maths Paper
Maths Question Paper (English Medium)
Maths Question Paper (English Medium)
Maths Question Paper (Hindi Medium)
Maths Question Paper (Gujarati Medium)
Sanskrit Xth Class
Sanskrit Language Question Paper (English/Gujarati Medium)
Science Xth Class
Science Question Paper March (English Medium)
Science Question Paper July (English Medium)
Science New Course Question Paper (English Medium)
Science Old Course Question Paper (English Medium)
Science New Course Question Paper (Gujarati Medium)
Science Old Course Question Paper (Gujarati Medium)
Social Science
Social Science Question Paper March (English Medium)
Social Science Question Paper (English Medium)
Social Science Question Paper (English Medium)
GSEB 10th Computer Theory Model Paper 2021
Computer Theory English Medium
Computer Theory Gujarat Medium
GSEB 10th Drawing Model Paper 2021
Drawing Preliminary Test English Medium
GSEB 10th English Model Paper 2021
English Preliminary Exam English Medium
English First Test Gujarat Medium
GSEB 10th Gujarati Model Paper 2021
Gujarati First Test English Medium
Gujarati Preliminary Test, English Medium
Gujarati First Test Gujarat Medium
Gujarati Second Preliminary Exam Gujarat Medium
GSEB 10th Hindi Model Paper 2021
Hindi Preliminary Test, English Medium
Hindi Mid Semester Exam, August English Medium
Hindi Preliminary Test, English Medium
Hindi First Semester Gujarati Medium
GSEB 10th Maths Model Paper 2021
Maths First Test English Medium
Maths Second Preliminary Exam Gujarati Medium
Maths First Test Gujarati Medium
GSEB 10th Physical Education Model Paper 2021
Physical Education First Semester Gujarati Medium
Physical Education First Semester Gujarati Medium
Physical Education First Semester Gujarati Medium
GSEB 10th PT Model Paper 2021
PT First Semester English Medium
PT Second Test Gujarati Medium
GSEB 10th Social Science Model Paper 2021
Social Science First Test English Medium
Social Science Preliminary Exam English Medium
Social Science Preliminary Test, English Medium
Social Science First Test Gujarati Medium
GSEB 10th Sanskrit Model Paper 2021
Sanskrit First Test English Medium

Sanskrit Preliminary Exam English Medium

Sanskrit Preliminary Test, English Medium

Sanskrit First Test Gujarati Medium
GSEB 10th Science Model Paper 2021
Science First Test English Medium
Science Preliminary Test, English Medium
Science First Test Gujarati Medium
Gujarat SSC & 10th Model Questions Paper 2021
10th Class English Sample Paper
English Sample Papers
English Paper
English Papers
English
English Sample Paper
EnglishB
Gujarat 10th / SSC Mathematics Model Questions Paper 2021
Maths Sample Paper 1
Maths Sample Paper 2
Maths Sample Paper 3
Maths Sample Paper 4
Maths Sample Paper 5
Maths Sample Paper 6
Maths Sample Paper 7
Science Subjects
Science Paper 1
Science Paper 2
Science Paper 3
Science Paper 4
Science Paper 5
Science Paper 6
Science Paper 7
Science Paper 8
Science Paper 9
Social Science
Social Studies Sample Paper 1
Social Studies Sample Paper 2
Social Studies Sample Paper 3
Social Studies Sample Paper 4
Social Studies Sample Paper 5
Social Studies Sample Paper 6
Social Studies Sample Paper 7
Social Studies Sample Paper 8
Social Studies Sample Paper 9
Social Studies Sample Paper 10
Social Studies Sample Paper 11
English Subjects
English Sample Paper 1
English Sample Paper 2
English Sample Paper 3
English Sample Paper 4
English Sample Paper 5
English Sample Paper 6
English Sample Paper 7
English Sample Paper 8
English Sample Paper 9